RM3,198.00

The simple 3-Step learning approach of BM109 Learning Pad:
"Learn" – Study guidance/ tutorial after school plus total understanding of the KSSR Textbook makes the most thorough in study explorations.
The study guidance/ tutorial after school specially designed for Chinese primary school pupils is compliant with the KSSR content.
Standard 1 – Standard 6 (BM & English) Textbook Vocab Glossary + Informative Text Guidance References create no limitations/ boundaries for kids to learn and study as a tutorial at home.
"Explore" – Glossary vocab enhanced with shrewd change & mastery of grammar results in the high score of writing essays.
The trilingual dictionaries edited by experts perfectly help kids with their homework/ exercises in BM, English & Chinese.
The UPSR syntax experts teach to analyze & explain what's behind grammar, use proper words, change grammar thus overcome sentence-making and essay-writing problems.
"Test" – Test papers from outstanding schools, Standard 1 – Standard 6 Exercise Tests help Chinese primary school pupils to easily achieve high scores.
Through the 3-step learning approach, kids are able and easy to shrewdly, quickly and correctly solve questions, and finally make high scores!
On the 5 main subjects- BM, Chinese, English, Mathematics and Science, practice with Std.1 ~ Std.6 Textbook Module Exercises and UPSR models test papers enhanced with the "See More, Think More and Do More concept" that is essential to learning.
BM109 电子书包简单3步学习法 :
"学"课后辅导, KSSR课文教材全解 → 最深入的学习探讨
专为在籍华小生而设计的"课后辅导",符合小学标准课程(KSSR)的内容。
一至六年级国英课本生字词典,课文资料。小孩在家也能课后辅导。
巩固练习等学习内容,帮助孩子看透课本打稳基础!
"问"辞典生词,改变语法,作文拿高分
由专家编撰的3语词典,完美帮助孩子学习三语课业。
UPSR语法专家教你破解语法的奥妙,用对词汇,改变语法,造句作文没烦恼。
"考"名校考题,一至六年级分级复习测试,让华小生轻松考高分
让孩子通过3步学习法,能够轻松做到"巧解题,快解题,解对题,得高分"。
针对五大学科–国语-华语-英语-数学-科学,跟着课本一对一单元分级复习及UPSR模拟试卷。
"多看,多想,多做"是学习之根本。
配置
1) 大屏学习,超清护眼效果非常赞,配件升级,更大更快更好。
10.1 英寸
2560 x 1600 分辨率
IPS 智能护眼系统 , 预防近视

高通骁龙 (Snapdragon) 64 位八核处理器
2) 电池超长续航,7天连续学习不打烊。
3) 大容量存储,海量学习内容,学习永不停止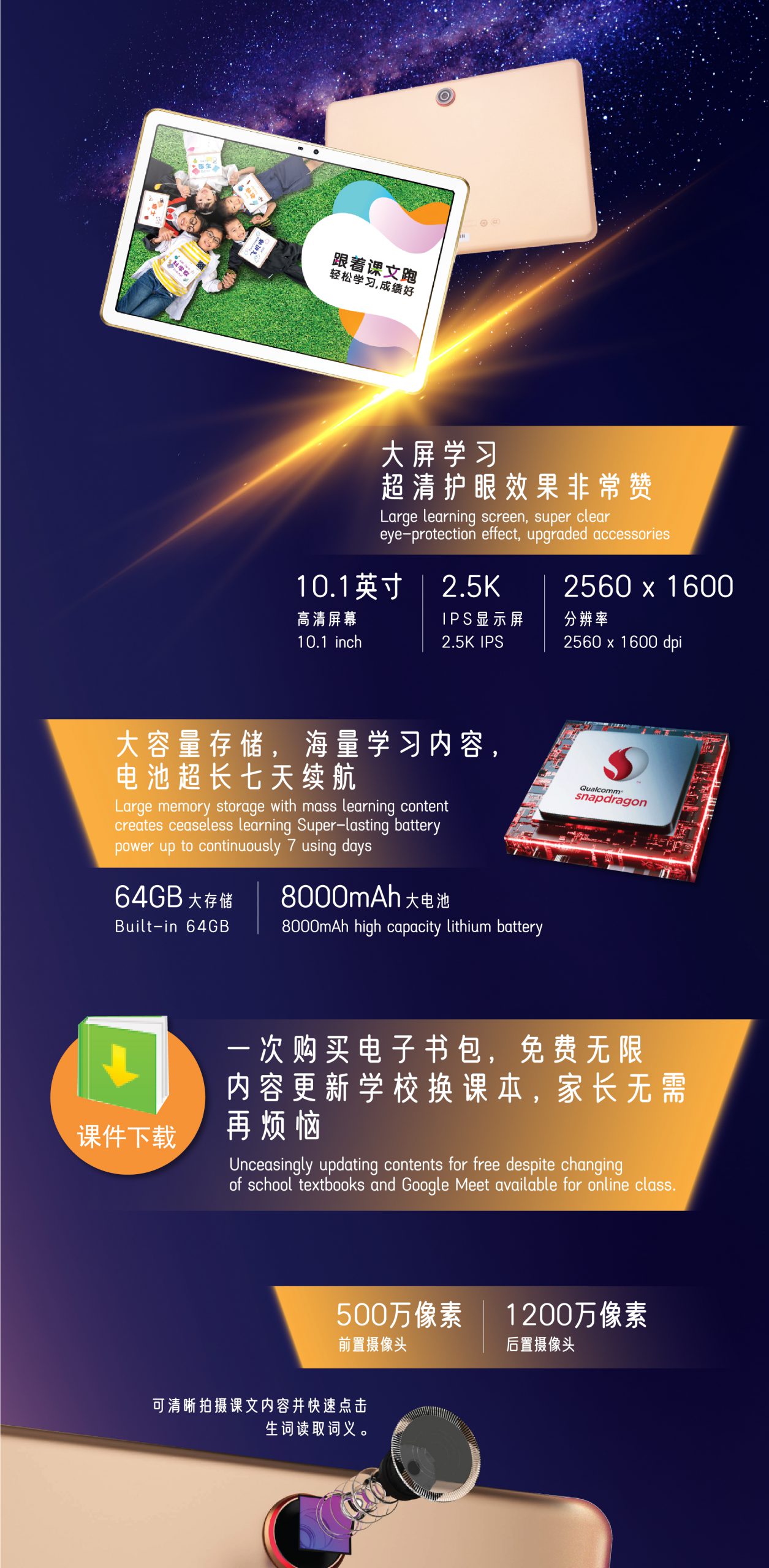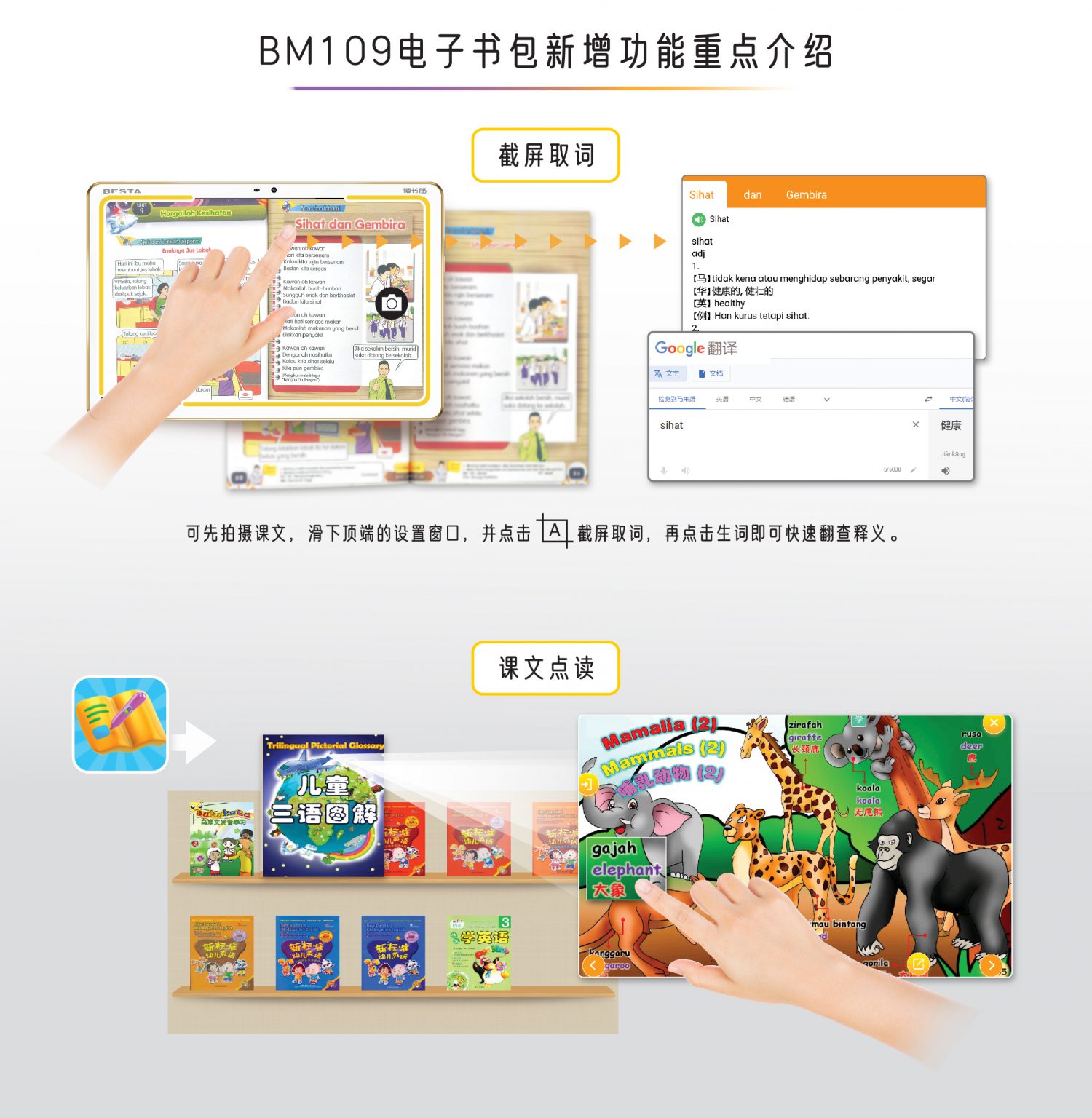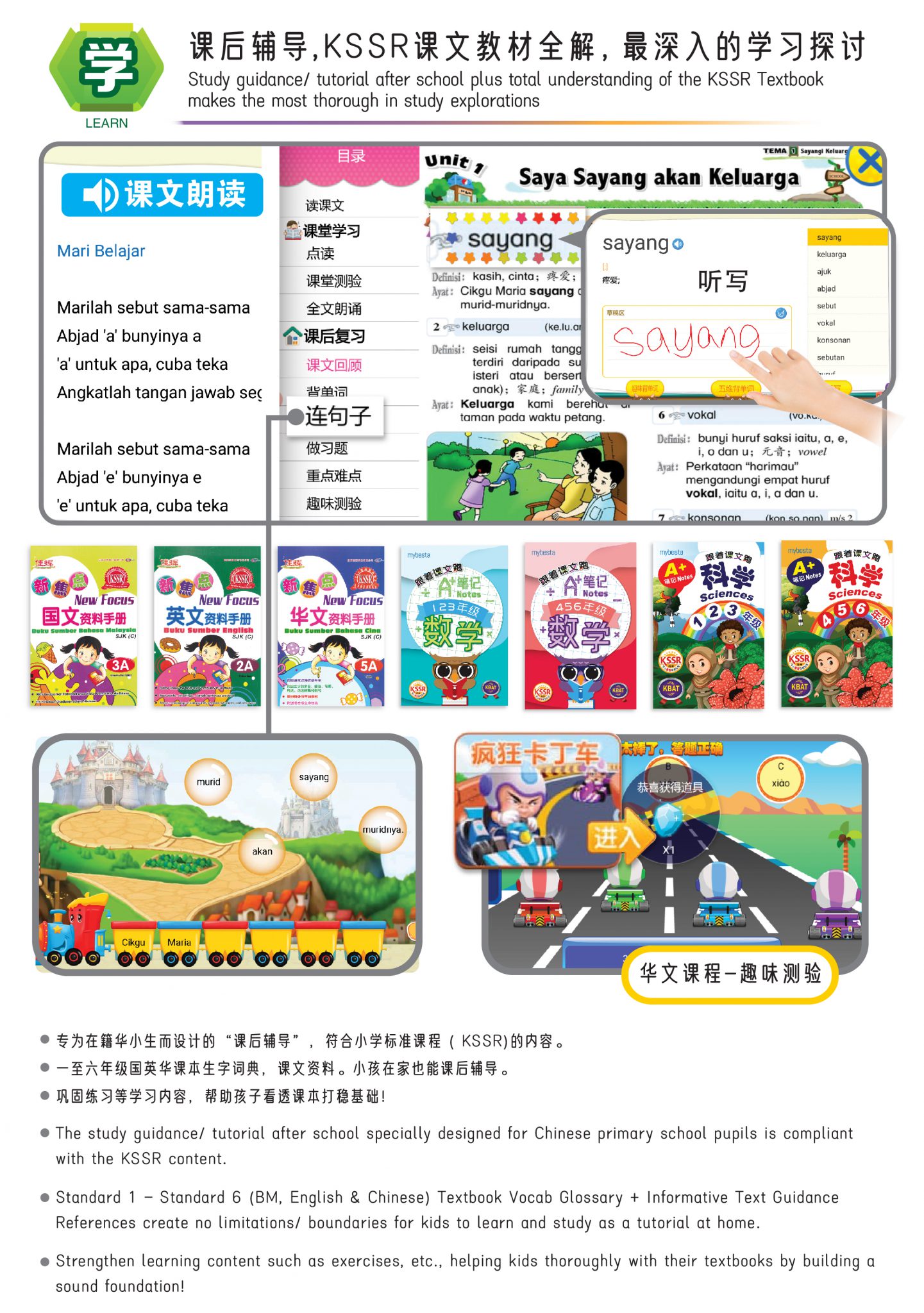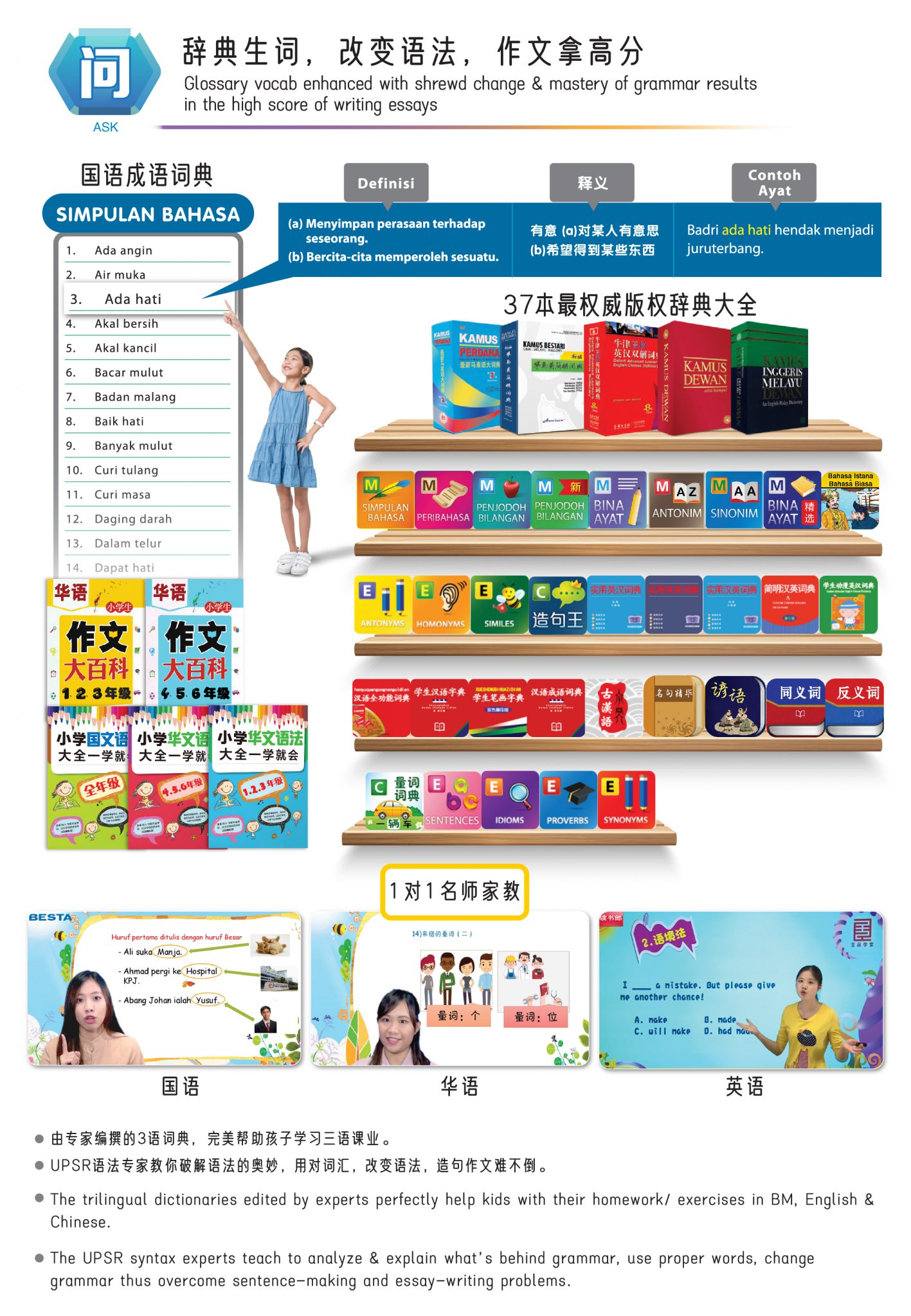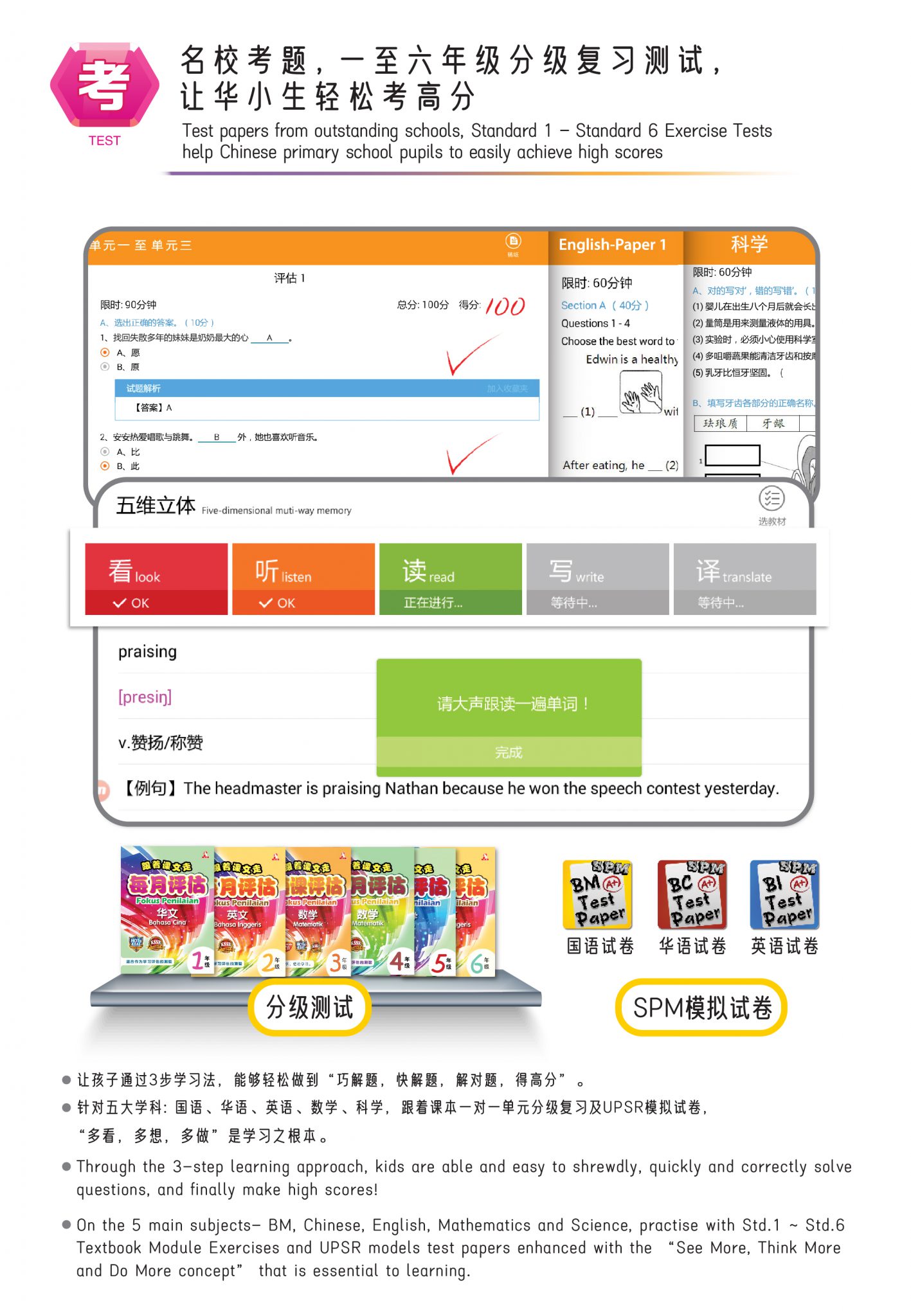 | | |
| --- | --- |
| Screen Resolution | 800 x 1280 |
| LCD Screen | 10.1″ IPS Screen |
| Device Color | Champagne Gold |
| Screen Color | WXGA Color Screen |
| Internal Memory | RAM 1GB, ROM 32GB |
| Slot Setting | Micro SD |
| Battery | 6000mAh Lithium Ion battery |
| Connection Interface | Type-C |
| Handwriting | Yes |
| Sentence Translation | Yes |
| Real Human Tutor | Yes |
| Pronunciation Mode | Yes |
| Live Voice Real Human Pronunciation | Yes |
| Pronunciation Comparison | Yes |
| Pronunciation Content | – |
| Chinese Input Method | – |
| Accessories | Charger, Type-C Cable, Casing |
| | |
| --- | --- |
| Weight | 1500 g |
| Dimensions | 28.4 × 21.4 × 6.4 cm |
Related products
The simple 3-Step learning approach of BM118 Learning Pad: "Learn" – Study guidance/ tutorial after school plus total understanding of the KSSR Textbook…

*Remarks: support/suitable for all 3 languages (CHI,ENG,MALAY) Features Global Sales Champion – Oxford Advanced Learner's Dictionary (8th Edition) Britannica Concise Encyclopedia The Standard…

The simple 3-Step learning approach of BM118 Learning Pad: "Learn" – Study guidance/ tutorial after school plus total understanding of the KSSR Textbook…

The simple 3-Step learning approach of BM101 Learning Pad: "Learn" – Study guidance/ tutorial after school plus total understanding of the KSSR Textbook makes…